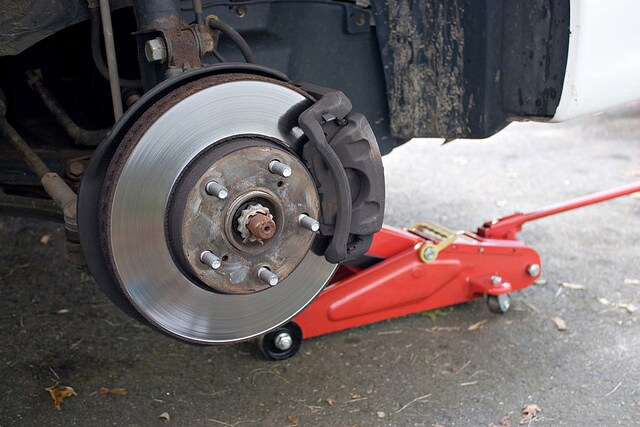 Learning to change your own brake pads is easy and can save you money. Here's how…
Jack up the car and remove the wheel and tire.
Remove the caliper. Unscrew the lower slider bolt in the caliper until it is completely removed. Then, flip the caliper up so that the brake pads are exposed. Do not detach any hoses. From here, you will be able to check the brake pads and confirm that they need replaced. Most brake pads come with metal wear indicators that are exposed when they need changed and cause squeaking as a result.
Slide out the old brake pads.
Replace the retaining clips, which usually come with new brake pads. Snap the new retaining clips in place.
Slide in the new brake pads.
Retract the pistons by pushing them in. Each wheel should have either one or two pistons. This is made easier by using a 2x4 to push in one or both pistons at the same time, using steady, gentle pressure.
Put the caliper back by lowering it back over the pads where it should fit nicely. Reinsert the slider bolt that you removed.
Replace the wheel and tire.
Repeat on the other side.
Test drive your new brake pads in safe, controlled conditions to ensure that everything is working as it should. 
If you have any questions, just call in or stop by our Service Department here at Pegues Hurst

Ford

.
Make an Inquiry
* Indicates a required field
Hours
Monday

9am-6pm

Tuesday

9am-6pm

Wednesday

9am-6pm

Thursday

9am-6pm

Friday

9am-6pm

Saturday

9am-5pm

Sunday

Closed